Christmas in the library has seen students coming in from the cold outside and enjoying everything the library has to offer. Students have been able to use the computers to get their last-minute homework assignments completed as well as starting on homework that is due after the holidays. They have also participated in playing games such as Uno, Chess, Dobble, Ludo as well as browsing the magazines and news articles section in their break and lunchtimes. It has been wonderful to see so many students searching the library's fiction and non-fiction books, especially looking at the new titles that have arrived recently.
Students have had the opportunity in the library to decorate or write a prayer/message on an angel or snowflake which they have then hung upon the library Christmas tree. On the final day of term, they have also enjoyed the Christmas Literary Fest held in the library at lunchtime. Christmas music played while students enjoyed games, a Christmas Quiz, Festive Bookmarks and mince pies!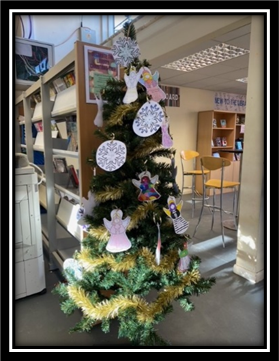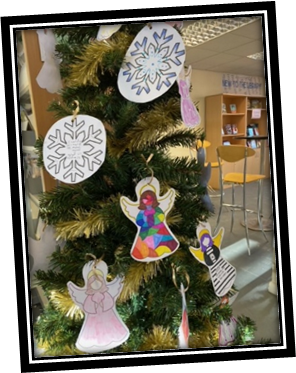 Merry Christmas and Happy Holiday everyone!