WELCOME TO THE ENGLISH DEPARTMENT
Welcome to the English department. In this section of the website, you will find important information for the department as well as some useful links to our curriculum page. If you require any further information, please do not hesitate to contact us.
Meet the department
Miss Aston – Head of Department - katie.aston@cncs.school
Miss Cunningham – 2iC English - emily.cunningham@cncs.school
Mrs Samworth – KS5 Co-ordinator - laura.samworth@cncs.school
Mr Osborne - Intervention Co-ordinator - nathan.osborne@cncs.school
Miss Rubio – Teacher of English - sophia.rubio@cncs.school
Miss Neville – Teacher of English - sadhbh.neville@cncs.school
Mr Hogan – Teacher of English & Drama - liam.hogan@cncs.school
Mrs Robbins – Head of Media/ Teacher of English - hazel.robbins@cncs.school
Mr McLintock – Head of Year 7 - joseph.mclintock@cncs.school
Miss Mohan – Head of Sixth Form - lucy.mohan@cncs.school
Mr Courtney – Assistant Headteacher - christopher.courtney@cncs.school
Mrs Perkins – Assistant Headteacher - kelly.perkins@cncs.school
Mr McDonnell – Assistant Headteacher - sam.mcdonnell@cncs.school
Miss Goodwin – Deputy Headteacher - michelle.goodwin@cncs.school

Homework
Within English, homework will be set on a weekly basis by the class teacher. Students will be able to find this on Classcharts and should have written the task and deadline in their planner.
We use Seneca, which is an online subject specific question-based platform, and Educake, which is an online homework platform which links directly to the exam boards that we teach at KS4. As your child moves into KS4, homework will begin to incorporate exam practice questions to prepare them for sitting their GCSE.
If your child is unable to access homework online, please ensure that the department are aware so that accessible homework can be set for your child.
Seneca Learning - https://senecalearning.com/en-GB/
Educake - https://www.educake.co.uk/

Equipment and Resources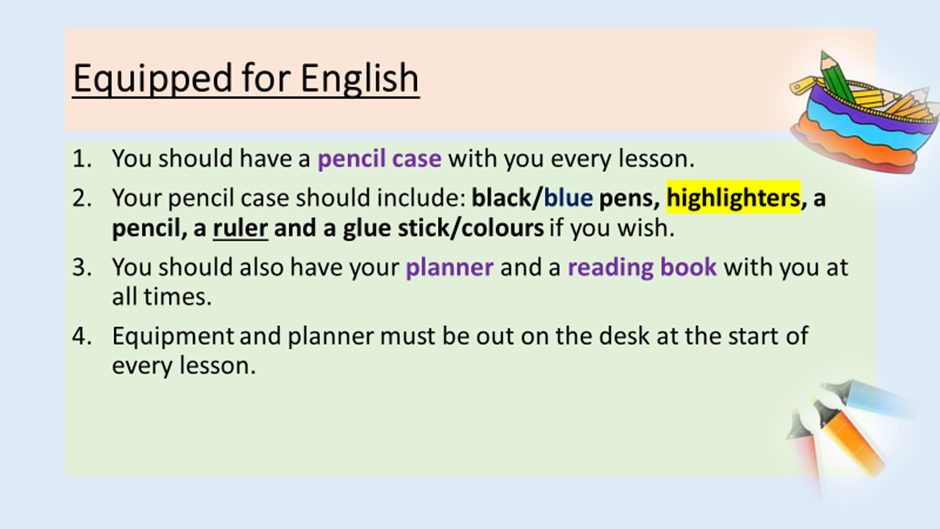 department praise and recognition
In English, we strive to acknowledge our students' successes. Students will experience reward and recognition through the school newsletter, postcards and letters home as well as through our subject's Twitter page - @English_Newman
READING AND VOCABULARY LISTS
Year 7 and 8 Recommended Reading List
Year 9 Recommended Reading List
Year 10 and 11 Recommended Reading List
Year 12 and 13 Recommended Reading List
A Level Vocabulary Bank
KS3 Recommended Vocabulary
KS4 Recommended Vocabulary
Upcoming Events
Thursday 6th October – National Poetry Day
Wednesday 30th November 2022 – An Inspector Calls Trip (Y11)
Thursday 15th December – A Christmas Carol Trip (Y10)
Thursday 26th January 2023 – Noughts and Crosses Trip (Y9)
Thursday 2nd March 2023 – World Book Day
Tuesday 21st March 2023 – World Poetry Day
Sunday 2nd April 2023 – International Children's Book Day
Tuesday 2nd May 2023 – Harry Potter Day
Key stage 4 information
We use the exam board Eduqas for GCSE English Language and Literature. Students are Cardinal Newman will sit their GCSE English Language exam in Year 10 and then complete their GCSE English Literature in Year 11.
You will find links to the exam board's specification and recommended revision materials below:
GCSE English Language - https://www.eduqas.co.uk/qualifications/english-language-gcse
GCSE English Literature - https://www.eduqas.co.uk/qualifications/english-literature-gcse
Key stage 5 information
We offer two English A Levels at CNCS:
English Literature
English Language and Literature
You will find the links to Edexcel's A Level specification and recommended revision materials below.
English Literature - https://qualifications.pearson.com/en/qualifications/edexcel-a-levels/english-literature-2015.html
English Language and Literature - https://qualifications.pearson.com/en/qualifications/edexcel-a-levels/english-language-and-literature-2015.html
For more information on our curriculum intent and implementation, click on the link below
Link to English curriculum page