WELCOME TO THE GEOGRAPHY DEPARTMENT
Welcome to the Geography department. In this section of the website, you will find important information for the department as well as some useful links to our curriculum page. If you require any further information, please do not hesitate to contact us.
meet the department
Head Of Department
Luke Miller – luke.miller@cncs.school
Geography Department
Miss Eggison: Head of Year 9 & Teacher of Geography -Lyndsey.Eggison@cncs.school
Mr Abbott: Head of Year 10 & Teacher of Geography - Jamie.Abbott@cncs.school
Mr Radford: Teacher of Geography - Timothy.Radford@cncs.school
Mr Murphy: Transition Geography Teacher - Ellis.murply@cncs.school
Homework
Key Stage Three (KS3 - Y7-Y9) and Key Stage Four (KS4 - Y10-Y11) are set one piece of homework fortnightly in accordance with their designated timetable day of subject homework. Homework is primarily set virtually via Educake, with some KS4 homework altering throughout the year, in the form of exam questions or via Senaca Learning, depending on forthcoming exam periods. Any incompletion of homework will result in an after-school homework detention, which are run on Thursday's.
Equipment
All students are expected to be fully equipped, as per the Cardinal Newman Catholic School equipment standards. Every lesson, students will always need their personal organiser, a black/blue pen, a pencil, a ruler, a green pen for multiple points of self-assessment, and potentially a calculator for mathematical based learning.
Department Praise & Recognition Of Achievement
Students are awarded aspire points for their classwork, attitude to learning and homework in Geography. Every fortnight, one student from each year group per teacher will be nominated for extra aspire points, a prize and a praise postcard home. Monthly, selected students will be published in the student newsletter, as well as top student scores on whole-year Educake quizzes. Lastly, teachers will contact home via email, text message or phone call to share positive praise and attainment of our students within Geography at Cardinal Newman.
UPCOMING EVENTS
Key Stage Three: TBC
Key Stage Four:
Y10 - Birmingham Fieldtrip: January-February - Date TBC
Y10 - Hunstanton Fieldtrip: June-July - Date - TBC
Y11 - Hunstanton Fieldtrip: Completed - Monday 17th July
Y11 - Birmingham Fieldtrip: Friday 22nd September
Key Stage Three Information – Y7, Y8 & Y9
Extension and consolidation of knowledge on the world's major countries by acknowledging their physical and human features. Locations focus on African regions (e.g. South Africa), Russia, Brazil, China, India and the Middle East.
Students compare environments across the globe, from subarctic tundra/polar climates to the hot/arid deserts.
Comprehension established over geographical processes creating distinctive landscapes that change overtime from physical and human activity. Humans develop this through studding different countries and major cities.
Students witness the evolution and change of the planet in physical and human geography.
Physical geography encompasses timescales, plate tectonics, geology, physical processes such as weathering, climate and erosion.
Human geography encompasses demographics, urbanisation, international development, migration, various economic activities/sectors and the use of Earth's natural resources through trade and consumption.
Students develop greater competence in using geographical terminology.
Geographical Skills – KS3
KS3 National Geography Curriculum – Key Skills Covered
Precise focus on key geographical concepts and knowledge.
Ability to sequence content to widen one's knowledge and comprehension of geography overtime.
Use of mapping (e.g. OS, Geological, Choropleth) by interpreting data to support extended writing.
Use of various map types, graphs and atlases to widen geographical and mathematical comprehension.
Use of GIS to view, analyse and interpret places, scale and data.
Carry out independent fieldwork by analysing various pieces of primary and secondary data for presentation, analysis and evaluation.
Key Stage Four Information – Y10 & Y11
GCSE Specification Hyperlink: https://qualifications.pearson.com/en/qualifications/edexcel-gcses/geography-b-2016.html
GCSE Course/Link – Edexcel B:
Paper 1: Global Geographical Issues (1GB0/01 – 37.5%).
Topic One: Hazardous Earth – Climatic & Tectonic.
Topic Two: Development Dynamics – India.
Topic Three: Challenges Of An Urbanising World – Mumbai.
Paper 2: UK Geographical Issues (1GB0/02 – 37.5%).
Topic Four: UK Evolving Physical Landscapes – Coasts & Rivers.
Topic Five: UK Evolving Human Landscapes – UK Dynamic Cities: Birmingham & London.
Topic Six: Geographical Investigations – Fieldwork: Birmingham & Hunstanton.
Paper 3: People & Environmental Issues – Making Geographical Decisions (1GB0/03 – 25%). (Three examinations – 1 hour 30 minutes each).
Topic Seven: People & The Biosphere.
Topic Eight: Forests Under Threat.
Topic Nine: Consuming Energy Resources.
Geographical Skills – KS4
KS4 National Geography Curriculum – Skills Coverage
Exam Board: Edexcel B
Component One: Global Geographical Issues (1GB0/01)
Use and interpretation of climate graphs, line graphs and bar charts showing climate and temperature change.
Use and interpretation of sea level projection graphs.
Use of GIS to track tropical cyclone movement, as well as reviewing weather and storm-surge data by analysing the Saffir-Simpson magnitude.
Cross section of the Earth and interpretations of tectonic plate distribution.
Using social media sources, satellite images and socio-economic data to assess the impact of climatic and tectonic hazards.
Using numerical economic data through calculating differences, analysing mean, range and comparing socioeconomic data of a given city/country.
Using GIS, satellite imagery, historic images and various map types to investigate spatial and urban growth overtime
Component Two: UK Geographical Issues (1GB0/02)
Analysing photographic evidence, GIS and maps (OS/BGS) of glacial, geological, coastal and river landscapes by comparing upland and lowland UK landscapes.
Developing enquiry questions to carry out through fieldwork.
Constructing and analysing storm hydrographs focused on precipitation (rainfall) and discharge (volume) measurements of a river basin.
Formulating a cost-benefit analysis based on coastal/river hard or soft engineering defences in reflection of given case studies.
Interpretation of UK demographics with change overtime, met with census and immigration data.
Use of crime and IMD databases to contrast different regions/areas in a city.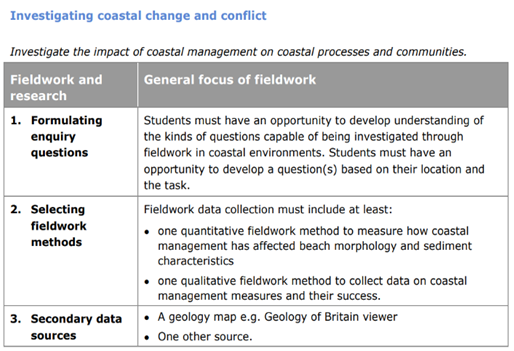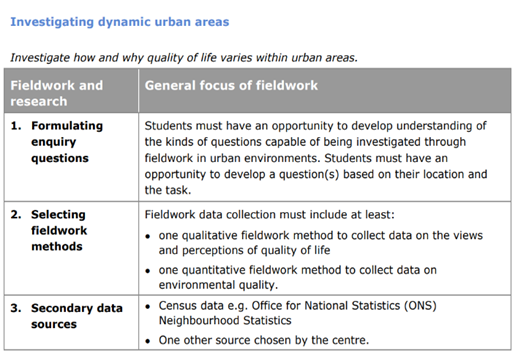 Birmingham Fieldwork Investigations Booklet
Hunstanton Fieldwork Investigations Booklet
Component Three: People & Environmental Issues – Making Geography Decisions (1GB0/03)
Comparing climate graphs for different biomes, along with using world maps to highlight biome distribution.
Interpretations of the hydrographical cycle, the nutrient cycle and complex food web diagrams.
Use of GIS, satellite and photographic imagery to show deforestation patterns overtime.
Interpreting world maps showing natural resource distribution and consumption, as well as charts/graphs showing changes to oil price, production and export.
Calculations based on carbon and ecological footprints.
Interleaving GCSE Geography Edexcel B Skills (Page 37)
https://qualifications.pearson.com/content/dam/pdf/GCSE/Geography-B/2016/specification-and-sample-assessments/Specification_GCSE_L1-L2_Geography_B.pdf