WELCOME TO THE MEDIA STUDIES DEPARTMENT
A very warm welcome to the Media Studies Department webpage. We hope that you will find the information outlined below useful and please do not hesitate to contact us for further information regarding our curriculum.
In this section, you will find our curriculum intent statement and details of the courses we offer to students as well as links to useful resources and our twitter page.
mEET THE TEAM
The department comprises of one specialist teacher. We are happy to help if you have any questions! You can contact us here
Head of Department: Miss E Cunningham emily.cunningham@cncs.school
Homework
At KS4, homework is set fortnightly and is completed online. KS5 students are expected to complete five hours of study each week. Students are given tasks that will consolidate learning within lessons.
Equipment AND RESOURCES
At KS4, students will be given a folder to keep their work organised. At KS5, students are expected to provide their own lever arch folder, to ensure that all work is organised and sequential.
Useful Links and Resources
Exam Board Support
GCSE: Eduqas Digital Educational Resources
A-Level: Eduqas Digital Educational Resources
The Media Insider: https://www.youtube.com/channel/UCGXfqzVEZr0XaZLWG3_HniA
Mrs Fisher: https://www.youtube.com/results?search_query=mrs+fisher
GCSE Bitesize: https://www.bbc.co.uk/bitesize/subjects/ztnygk7
Edusite: https://media.edusites.co.uk/
Careers In media Studies
Careers in Media Studies:
In December 2022, students in KS4 Media Studies explored the career options that Media Studies can open up to them!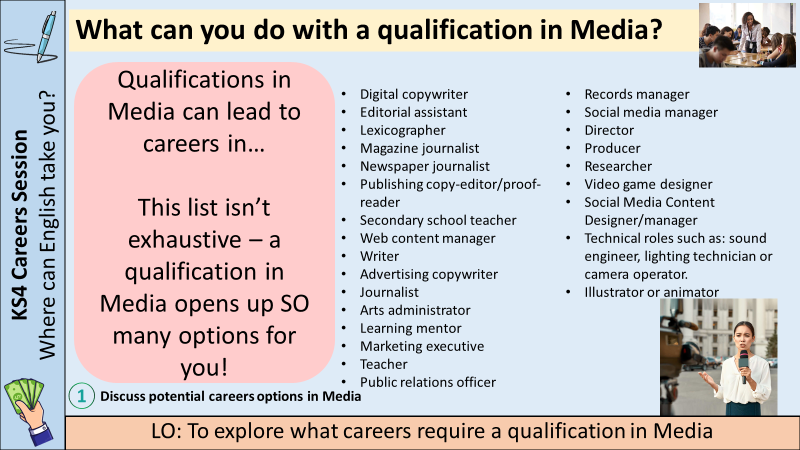 In this session, students also had the opportunity to create their own commentary script and perform them to the rest of the class. This gave students' a real insight into industry demands and just how many career paths Media Studies opens up for them once they leave full time education.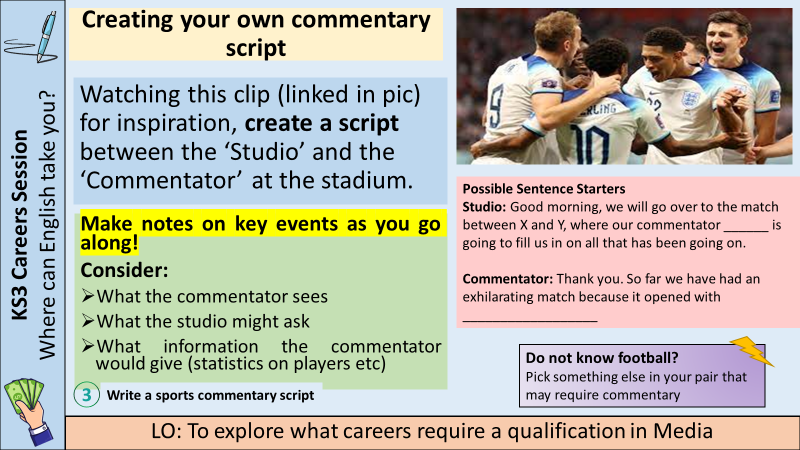 Useful links for Media Studies careers:
Post 18 Destinations for CNCS Students:
We are very proud of the achievements of our students and have high aspirations for their Post 16 and 18 destinations. Some examples of our 2022 leavers:
Coventry University to study Film Production
Coventry University to study Animation
Demontfort University to study Film Studies
Birmingham City University to study Media Production
University of Warwick to study Film Studies
Recommended wider reading for media studies
Please click here to view the document
KS4 Information
Students in Years 10 and 11 follow the Eduqas Exam Board and study GCSE Media Studies: https://eduqas.co.uk/qualifications/media-studies/gcse/
KS5 Information
Students in Years 12 and 13 follow the Eduqas Exam Board and study A-Level Media Studies:
https://www.eduqas.co.uk/qualifications/media-studies/as-a-level/
For more information on our curriculum intent and implementation, click on the link below
Link to Media Studies curriculum page