Here at Cardinal Newman Catholic School our core values of ASPIRE are at the heart of what we do. We are very fortunate to be able to offer an extensive range of extra-curricular activities in which we encourage all students to take advantage of this offer. The extra-curricular activities aim to:
· Create opportunities for personal enrichment.
· Motivate individual students according to their needs and interests.
· Allow participants the chance to learn and develop new skills like and perhaps discover a new talent.
· Instil students with a positive attitude toward themselves, school and learning outside the normal curriculum.
· Raise self-esteem and establish new friendships as well as building their confidence and resilience
· Extend their learning and raise achievement
All students are welcome to take part regardless of their ability, age or needs.
*ECA Timetable updated each term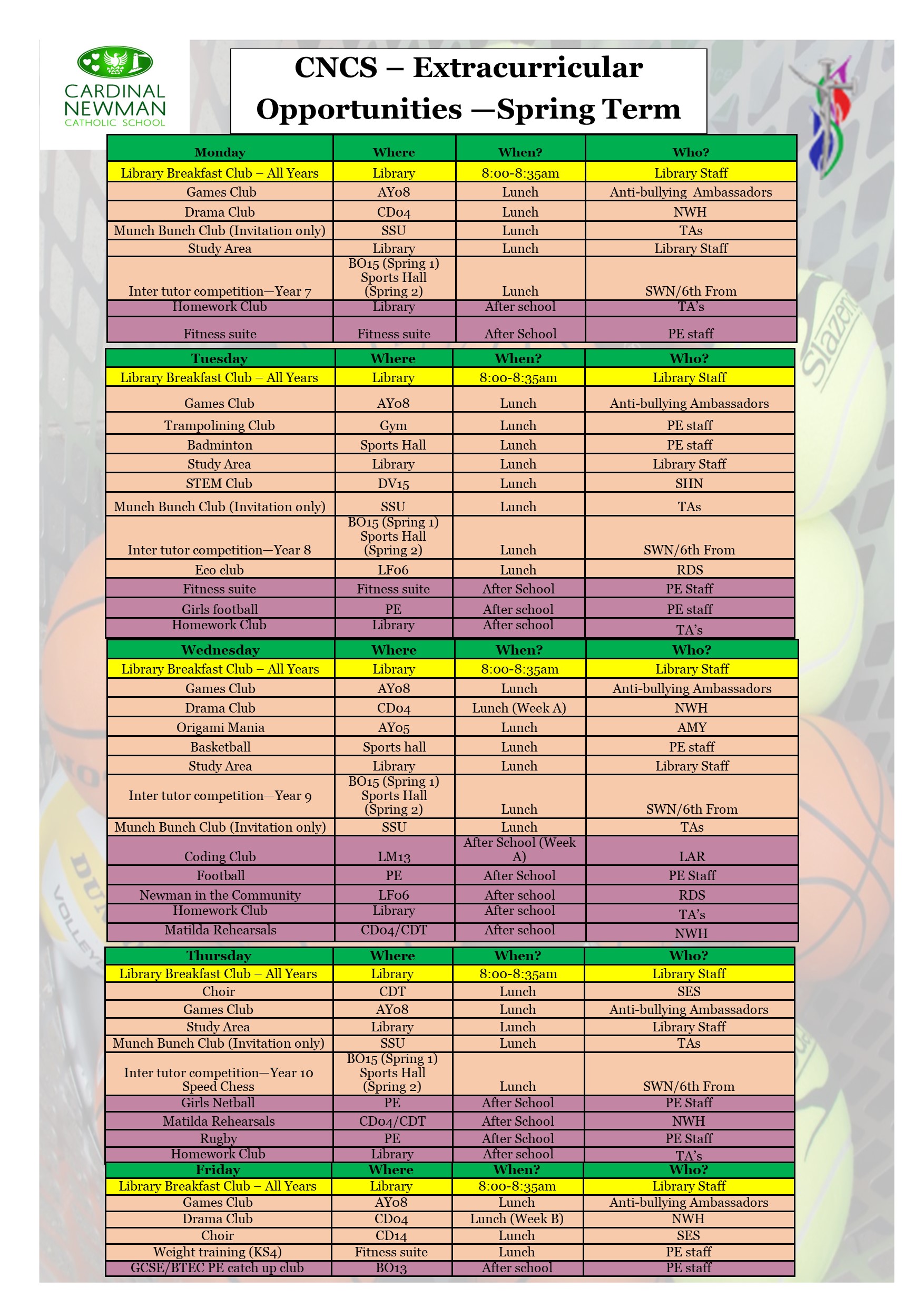 Inter Tutor Competitions
We are delighted to announce the launch of inter-tutor competitions at CNCS. All Newman students from Y7-10 will have the chance to represent their tutor and compete to find out who really is the best tutor!
The Inter Tutor Competitions will aim to give students a greater sense of community within the whole school environment. Students will have the chance to engage and interact with other members within the school by participating in numerous inter tutor events and activities that occur throughout the school year.
These events will take place during lunchtimes with each year group competing on a different day.
Monday – Year 7
Tuesday – Year 8
Wednesday – Year 9
Thursday – Year 10
Each half term there will be a different event taking place and you will earn points for your tutor depending on the position you come for each event. All these points will be tallied up with the winning tutor group from each year group receiving the trophy at the end of the academic year.
Events will take place in a round robin style within a league format so each tutor group will play everyone.
Social Time Photos