Dave Shelton – Author and Illustrator Year 9 Event – Wednesday 26th April 2023
Dave Shelton – Author and Illustrator
Year 9 Event – Wednesday 26th April 2023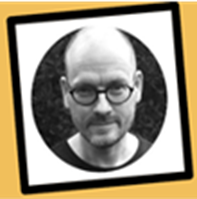 The author and illustrator, Dave Shelton, visited CNCS to speak to our Year 9 group. He spoke in morning assembly about the origins of his work, how he acquired his ideas for his books and how he created his illustrations. Students also had the opportunity to ask a variety of very interesting questions. ​
​
During the rest of the day Mr Shelton held workshops in the library for some of Year 9 where he demonstrated how he created his illustrations as well as encouraging and coaching students to create their own comic book characters. We are incredibly proud how our students engaged in these workshops and the amazing illustrations they produced. Well done Year 9!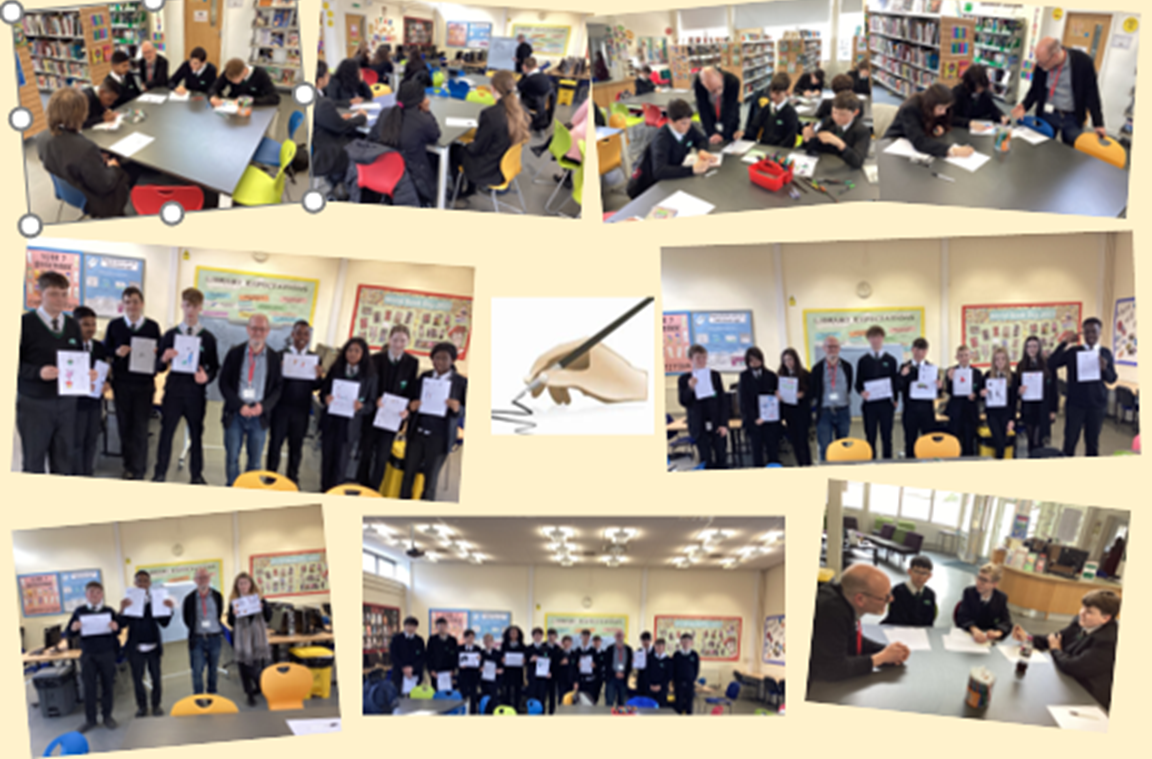 End Of Term Student Librarian Celebration and Award - 30th March 2023
Student Librarian Meeting
30th March 2023 Today the library held a meeting and end of term celebration for the Student Librarians who have demonstrated commitment and hard work in their role during the last term. The library was closed at lunchtime so the librarians could enjoy their lunch in the library as well as having a choice of cupcakes to eat whilst they discussed what they have enjoyed about their role. The librarians put forward many positive suggestions for the coming term as well as discussing what contributions they can make towards making the library even better. Each one was awarded with their Student Librarian Bronze certificate and an Easter Egg. CNCS is incredibly proud of them and they are a strong and positive asset to the library. Well done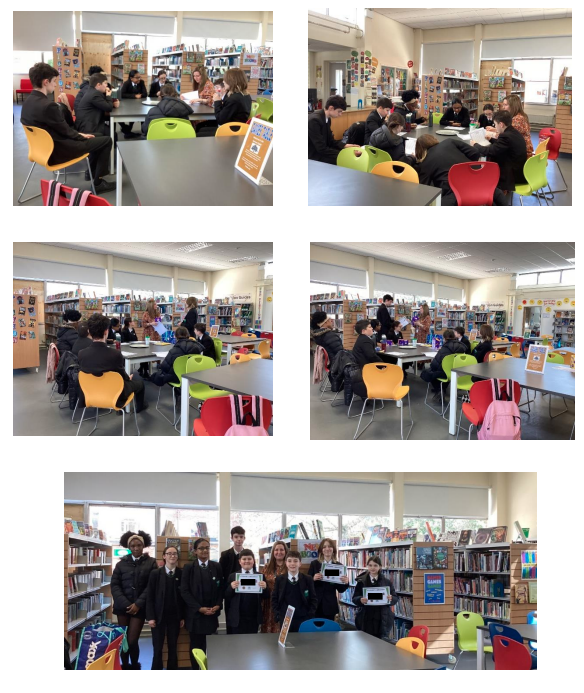 world book day 2023 - Thursday 2nd march 2023
Everyone at CNCS had a fantastic day celebrating World Book Day. There was a marvellous atmosphere as students enquired who staff members were dressed up as and even voted for their favourite -congratulations Miss Dynan who designed and made her very own Queen of Hearts costume from Lewis Carroll's novel Alice in Wonderland!
Tutor groups from Year 7 and 8 took part in 'Decorate your tutor door' competition where they were asked to decorate their tutor doors in a literary theme. There were some magnificent and very creative entries by all tutor groups but there could only be one winner from Year 7 and Year 8 – congratulations go to Miss Dynan and her tutor group who continued their theme of Alice in Wonderland with their eye popping and colourful creation. Congratulations also goes to Mr Gordon's tutor group for their magnificent design, demonstrating creativity and fantastic imagination from his students.
The library was full of students participating in the Where's Wally theme during their break and lunchtime where they had to find 10 Wallys hidden around the library. It was wonderful to see how enthusiastic the students were as they searched high and low for Wally.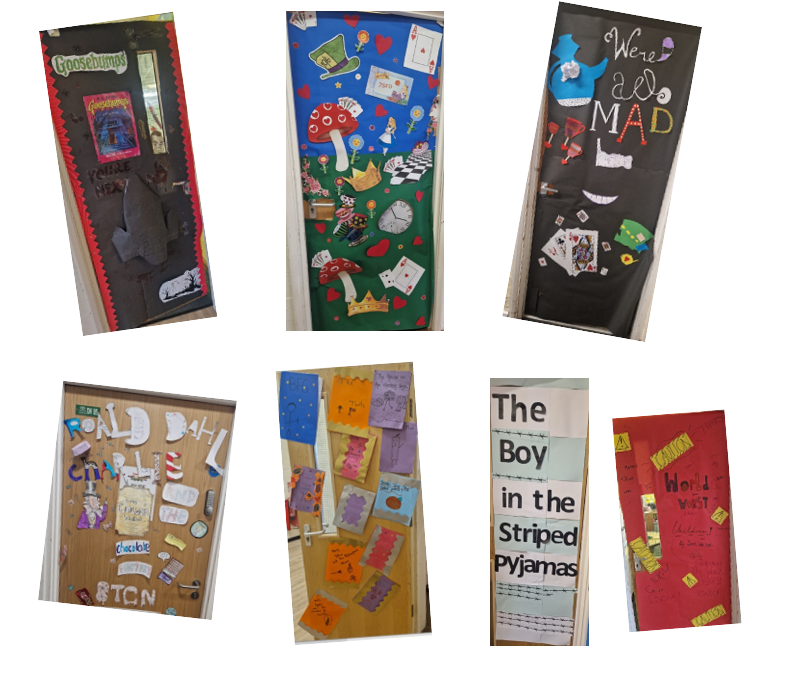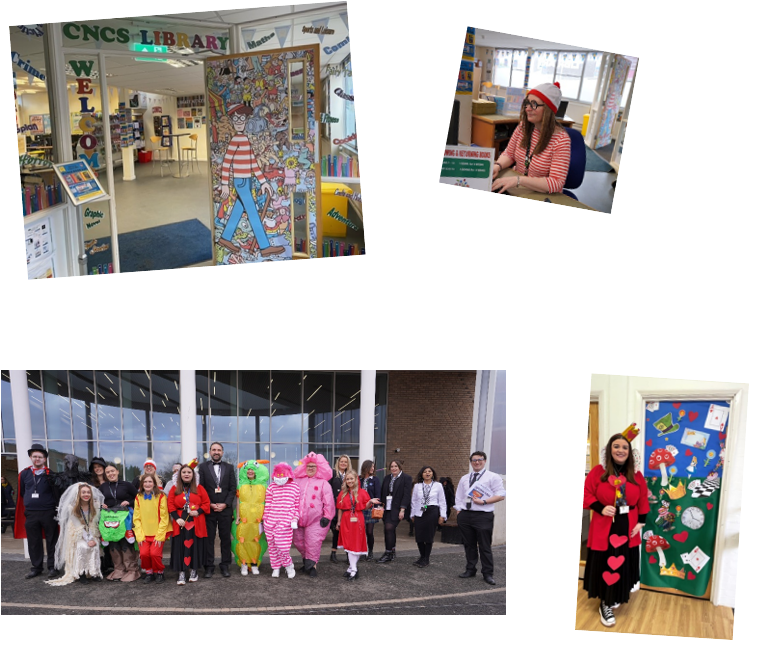 Emilie Lauren Jones - Coventry's Poet Laureate
On Friday 20th January 2023 the library had the honour of hosting a wonderful day of poetry with Coventry's Poet Laureate Emilie Lauren Jones. Emilie spent the entire day at CNCS starting with an assembly for Year 8s where she explained what a poet laureate is, what drove her to become a poet and how she creates her poetry. The assembly ended with some very interesting and mature questions from the students with amazing answers from Emilie.
The day continued in the library where some very lucky Year 8s had the privilege of taking part in Emilie's poetry workshops which were centred on mental health and wellbeing. The students got to explore poems chosen by Emilie and then given the opportunity to create their own poems using similar devices and techniques. Some amazing, wonderful and profound poems were produced. Emilie was extremely impressed with the student's creativity and use of language and selected a few of her favourites.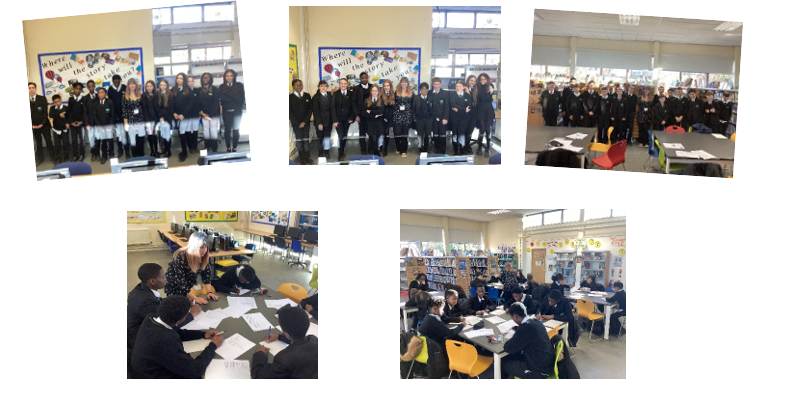 Christmas in the library
Christmas in the library has seen students coming in from the cold outside and enjoying everything the library has to offer. Students have been able to use the computers to get their last-minute homework assignments completed as well as starting on homework that is due after the holidays. They have also participated in playing games such as Uno, Chess, Dobble, Ludo as well as browsing the magazines and news articles section in their break and lunchtimes. It has been wonderful to see so many students searching the library's fiction and non-fiction books, especially looking at the new titles that have arrived recently.
Students have had the opportunity in the library to decorate or write a prayer/message on an angel or snowflake which they have then hung upon the library Christmas tree. On the final day of term, they have also enjoyed the Christmas Literary Fest held in the library at lunchtime. Christmas music played while students enjoyed games, a Christmas Quiz, Festive Bookmarks and mince pies!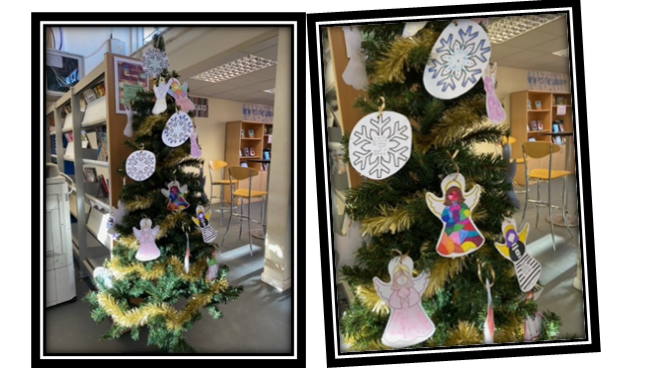 poet with Punch Visit – 21st November 2022
CNCS has been very lucky to host a visit today from Matt 'Poet with Punch' Windle. Matt, who has visited the school on numerous occasions, came into school to spend the entire day with Year 7. First, he held an assembly with Year 7 talking about the use of words and how they can be put together to create a rhyme and then go on to create a poem. He demonstrated this by incorporating many of the students' names in his poem by using a 'free style' technique that had the students enthralled and excited as they heard their names rhymed with other words to create an on the spot poem.
During the rest of the day Matt spent time in the library working with Year 7s where, together, they created poems on the theme of anti-bullying. Students completed a poetry task and were then able to take the opportunity to learn some basic boxing techniques under Matt's professional tuition.
It has been a joy to see how many students engaged in the tasks and boxing tuition so positively. They have surprised themselves at how they have been able to think and create their own poems. Well done Year 7 and huge thanks to Matt – what a wonderful event at CNCS!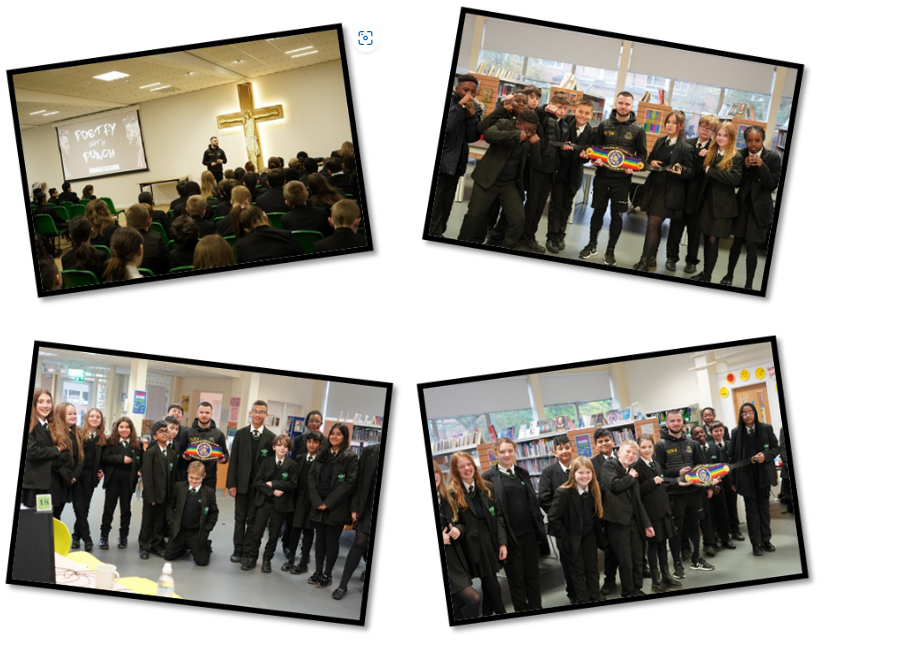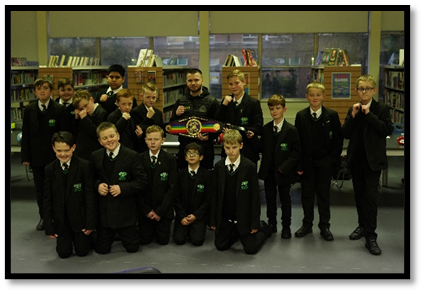 CNCS OPEN EVENING 2022-2023
In September 2022 the Library took part in welcoming potential new students and their families to look around the library and see what facilities are available and events that take place throughout the year.
A wonderful evening was had by all with the library experiencing a particularly magical feel.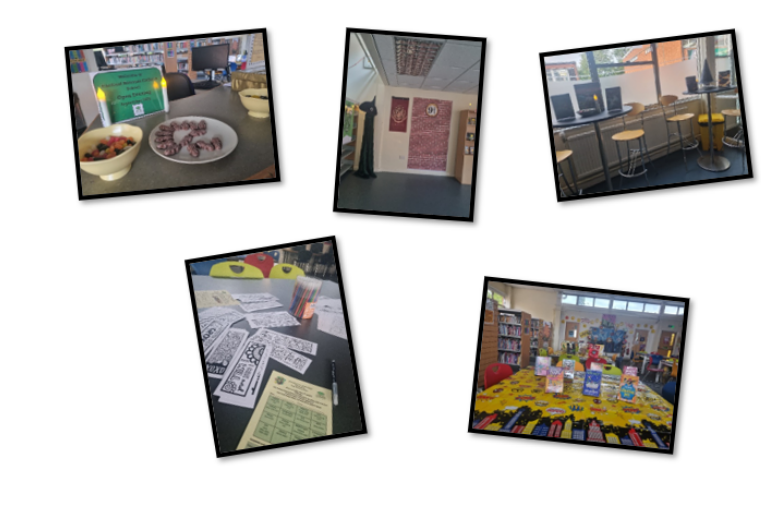 The Great Book Giveaway!
On Friday 15th July 2022 the library held 'The Great Book Giveaway' where students were invited to come into the library during their break and lunchtime to choose a free book and/or DVD to take home.
The library's book section had been closed for the summer term to enable a stock check to take place. During the stock check, out-of-date and damaged books were 'weeded' out to make room for new titles to be ordered. As a result, there were a number of books that were made available to students, hence 'The Great Book Giveaway'!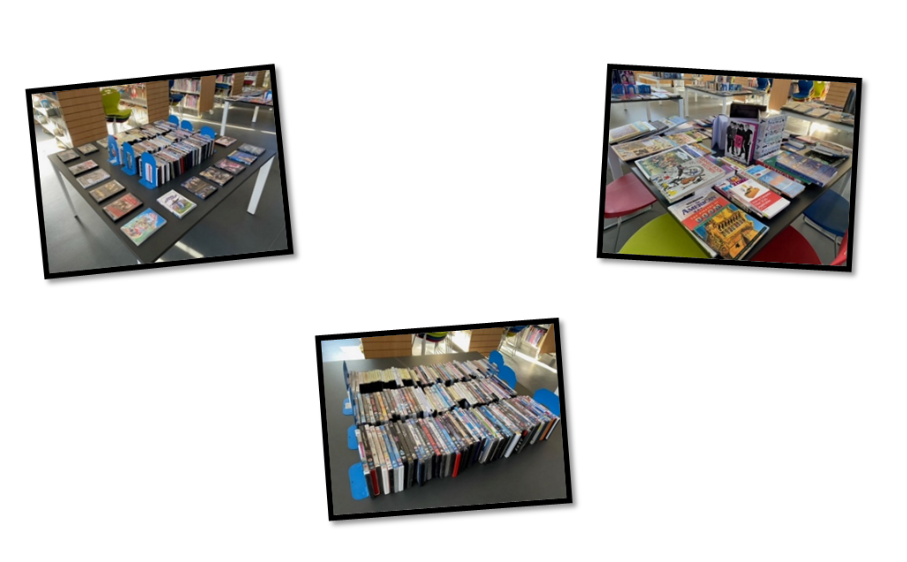 The event was a great success with many students coming to the library during their break and lunchtime. It was wonderful to see students from all year groups browsing different titles and also paying particular interest to revision guides and text books – looking towards their future studies!