READING ALOUD
In the library on the 16th November the CNCS Reading Aloud programme commenced. This is a reading programme where Year 9 and 10 students volunteer to listen to and encourage our Year 7 and 8 students with their reading during tutor time.
It has been a wonderful first session with an outstanding number of students reading aloud and discussing with their mentors the books they are reading.
The library will continue the programme every Wednesday and we look forward to seeing students read an array of reading materials. Well done everyone!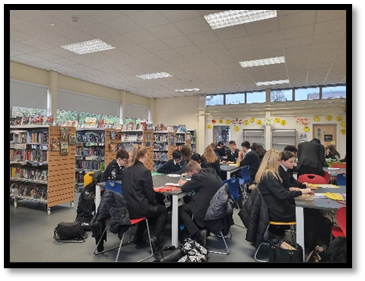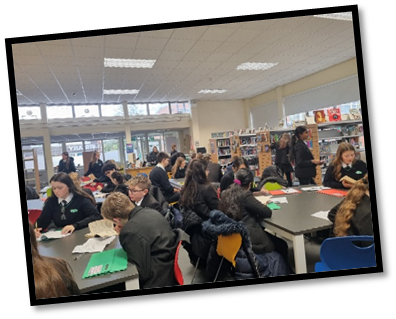 YEAR 7 AND 8 BOOKMARK COMPETITION – 2022-2023
Our annual Bookmark Competition was launched in September during our Library Induction lessons.
Each Year 7 and 8 English class were given a library induction lesson to explain the facilities that the library offers and also give the students the opportunity to understand how the fiction and non-fiction books are organised in a library.
The induction lesson ends with the launch of our annual bookmark competition where students can create any design they like on a blank bookmark.
The deadline was just before October half term and the winners were announced the first week back to school.
Six winners, three from Year 7 and three from Year 8, each received library certificates and a prize.
We are very proud and impressed with our students' creativity and designs.

ART COMPETITION - 2022
Last term the library held an art competition where students were asked to produce a work of art relating to reading and/or books.
It gives us great pleasure to announce the winners of this competition and to exhibit their wonderful creations. Each will be put up on the library walls for the whole school to admire.
Three winners were chosen and they each received a certificate and a prize. The overall winner also had their artwork chosen to become the library's new logo. This will be seen on various items attributed to the library such as special bookmarks, CNCS Library User Guides, the library website homepage and many more.
We are extremely proud of the students and their achievement.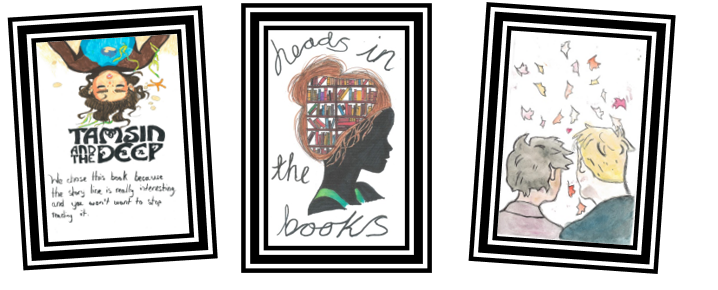 Re-opening of the Library's Book Section
Having been closed the summer term of 2021-2022 due to an in-depth stock check, the library will reopen in the Autumn term 2022-23. Books that were old and not relevant have been weeded out to make room for exciting new titles as well as replacing old favourites, some of which have already been ordered. Keep a look out for new titles throughout the year!
Myton Reading Challenge
Before the end of the Summer term, we launched the Myton Reading Challenge to help raise funds for Myton Hospice. Students have been encouraged to take part by being sponsored for each book they read over the summer. Recommendations have been provided but students are free to choose any books they like, fiction or non-fiction – we look forward to seeing what titles have been chosen as well as any funds that have been raised for what is a very worthy cause.