Curriculum intent statement
The Sociology department's aim is to study human social relationships and institutions through the AQA Sociology specification (linear qualification). The A-level specification is designed to be taken over two years with all assessments taken at the end of the course.
Students will learn the fundamentals of the subject and develop skills valued by higher education (HE) and employers, including critical analysis, independent thinking and research. The integral elements of the course includes a focus on sociological theories, perspectives and methods, the design of the research used to obtain the data under consideration, including its strengths and limitations.
Overall this course enables students to focus on contemporary society and will foster the development of critical and reflective thinking with a respect for social diversity. The course allows students to achieve an awareness of the importance of social structure and social action in explaining social issues. Throughout the course students are encouraged to develop their own sociological awareness through active engagement with the contemporary social world (real world application).

Curriculum implementation
The course itself offers an engaging and effective introduction to Sociology and therefore students do not require formal prior learning. However, Post-16 preparation allows students to take part in taster sessions prior to KS5 to offer them a greater insight into the course and the learning expectations at A Level study. In order to adequately prepare students for their chosen pathway, summer transition work is offered to establish knowledge of key terminology and develop necessary skills ahead of Post-16 study the course and to assess and gaps in knowledge and skills.
Students will develop skills that will enable them to draw out the links between each of the topic areas studied on the course (synoptic skills). Sociology's subject matter and learning journey is diverse, ranging from crime to religion, from the family to the state, from the divisions of race and social class to the shared beliefs of a common culture, and from social stability to radical change in whole societies. The option topics have been chosen due to the challenge it offers to our students (Beliefs in Society) and for its potential to be applied to relevant real world application (Families and Households). In addition, students will learn about the significance of conflict and consensus, social structure and social action, and the role of values. The central focus of study is on UK society today, with consideration given to comparative dimensions where relevant, including the siting of UK society within its globalised context, allowing for pupils to explore society ready for their future pathways.
Year 12/13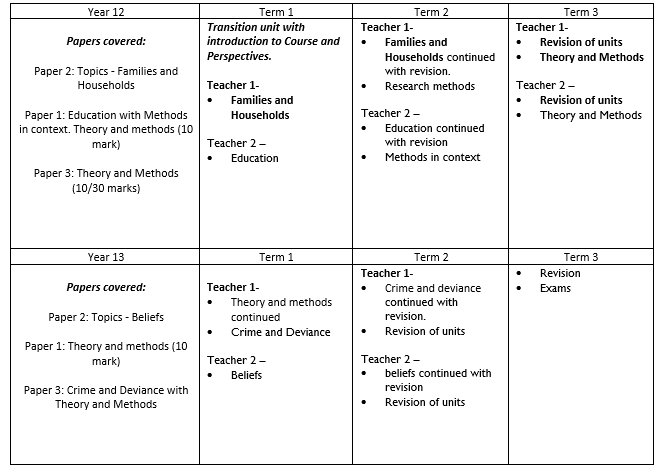 A Level – AQA Sociology:
Exam board link - https://www.aqa.org.uk/subjects/sociology/as-and-a-level/sociology-7191-7192
Links