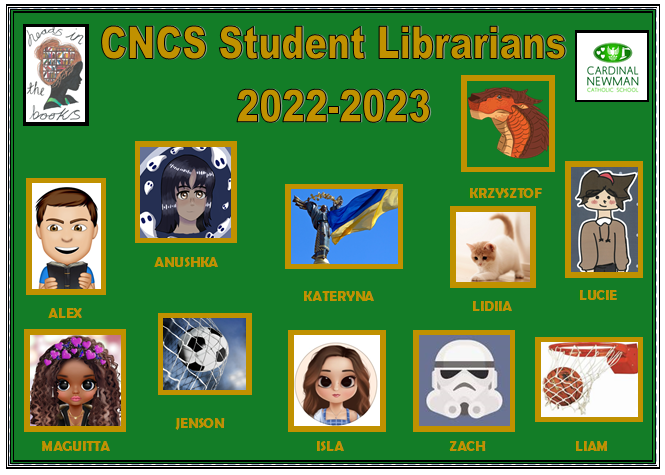 Each term students are invited to apply to become a Student Librarian. Students are able to fill out an application form, experience an informal interview and participate in the Library Training Scheme. Students get a great deal out of helping in the library – it raises their self-esteem, provides a sense of responsibility, increases confidence, communication, problem solving, peer interaction, collaboration as well as improving key skills such as speaking and listening.
Students are also welcome to apply to support their Duke of Edinburgh programme.
Student Librarians 2021-22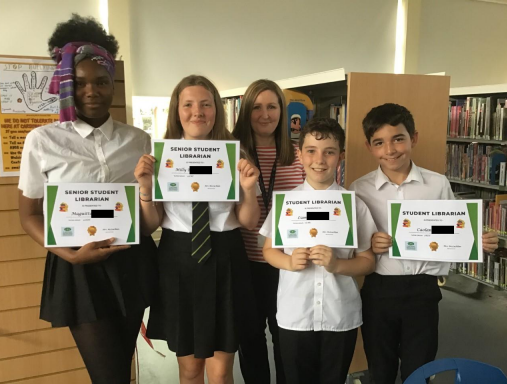 Why I like being a Student Librarian in the CNCS library…..
I like being a Student Librarian because I like all parts of the library like making sure all the books are put in the right places or putting the books away myself. Working on the desk has also helped me develop as a person because it has made me have a better set of social skills.
Alex (Year 7)
To be honest I enjoy being a librarian because I really like reading books and also I like the library because everybody there is so nice and kind, helping each other and being really friendly. Also, I really like helping people. That's why, if you have any questions you can come and see us! 😊
Kateryna (Year 8)
There are many qualities about being a school librarian. Personally, being a Student Librarian helped me with my communication as I communicate with the students when I am on duty. It also helps me in building my confidence because I have been trained on the roles I need to do.
Reva (Y11)
Ever since I became a librarian I found myself coming to the library more to borrow a book, which as a result improves my English. I also find myself discovering more and more books I didn't think I would enjoy, but still did. Being a librarian helps me socialise and use my qualities and talents: communication, memory and numbers. It is a really fun experience and I say that others might enjoy it too!
Anushka (Y8)